A rotary printing method used to print on surfaces like plastic, fabric, or paper with the help of rubber or plastic plates and fluid inks or dyes is called Flexographic printing. It is commonly used to print huge volumes in materials such as boards, films, paper, and foil with a turnaround time up to 2000 feet.
The evolution of letterpress with increased rotary function and capability of printing on any type of substrate leads to the flexographic printing technology.
The main components involved in the flexographic printing process are,
Fountain roll: A reservoir of ink rotating to pick up and deliver a heavy flow of ink.
Anilox roll: The chrome or ceramic plate covered with tiny engraved cells supplies fine film of ink to the printing plates.
Doctor blade: It contains the excess flow of ink to the printing plates from the anilox roll.
Printing plate cylinder: This plate cylinder is installed between the anilox roll and the impression cylinder. Printing plates are attached to their double-sided back. The plate picks up ink from anilox and transfers it to the substrate.
Impression cylinder: It is a pressure applier which helps in transferring image from the substrate to the receiving substrate.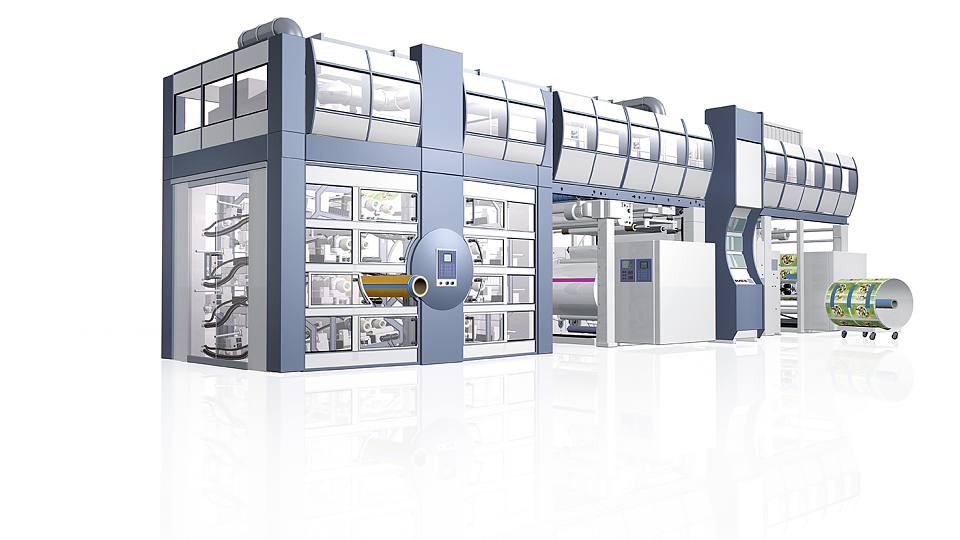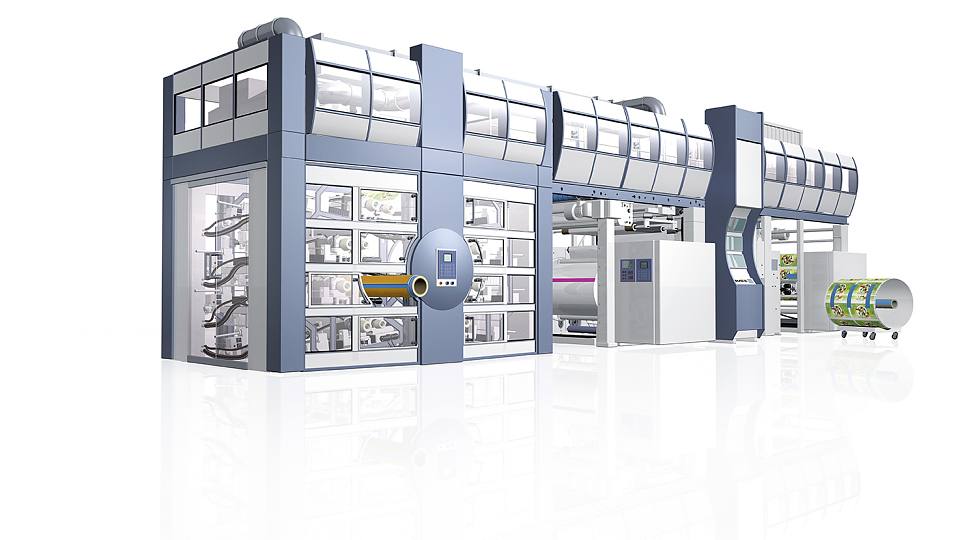 There are also other components involved in flexographic printing such as,
Feed and Unwind station: Control is established over the substrate by feeding it into the press at a pre-defined tension constantly even as the diameter of the roll changes. Automatic web guides, web cleaning, and corona treaters for substrates are the use of an unwind station.
Printing station: A smooth and stable drive needed to provide a clean and vibration-free printed image.
Drying station: Infrared and air drying or ultraviolet and LED curing systems that help to ensure that the drying intensity is matched to the press speed.
Chilling rollers: Ensures the stability of the substrate through the press by controlling the web temperature. This is due to the use of thinner synthetic and unsupported films.
Die-cutting and converting: Commonly found in narrow web presses for the production of labels, cartons, and tickets. Products can be cut, creased, foiled, stamped, embossed, and perforated the same as the process of printing which results in finished products in the form of rolls or sheets.
Outfeed and rewind station: Tension control sensors help in maintaining the tension as the substrate leaves the printing press. Waste products are rewound out of the system whereas final products are rewound into large rolls for latter inspections.
Flexographic printing press is broadly classified into three types,
Inline printing press: Suitable for narrow web and mid web printing. They are very versatile and can integrate any new technology very easily. Preferably used for wide-width printing and reverse side printing. Foil blocking, cold foil, and lamination are other value-added processes that can be achieved using this press. They are commonly used in printing pressure-sensitive and standard labels.
Central impression press: they are suitable for narrow web printing. It is the most commonly used flexographic printing for unsupported substrates. Colour stations are positioned in a satellite structure around the main central impression cylinder. They are compact and have a space advantage. Even though they are not as efficient as inline press or operator friendly. However, they provide a very stable register on all types of substrates. They are also called drum, common impression, or CI. It is advantageous for its holding registration.
Stack press: it provides an advantage of a compact footprint similar to the CI press. They have difficulty in operating four to eight stack vertical color stations and require a ladder to move the upper color stations. They can handle supported webs with ease and have difficulty in handling unsupported materials. The advantages of using stack press are, stations are very accessible, the web can be used to allow perfecting and they can print on a variety of substrates.
The inks for flexographic printing are determined based on the nature and demand of the printing product. Flexographic inks are preferred to be compatible with widely used types of substrates. Each formulated component satisfies individual function while the proportion and composition vary depending on the substrate.
The different types of inks that can be used in the flexographic printing process are,
Solvent-based inks
Water-based inks
Electron beam curing inks
Ultraviolet curing inks
Two-part chemically curing inks (based on polyurethane isocyanate reactions)
It also has food grade and environmentally friendly inks.
The process of Flexographic printing comprises of two phases
Prepress: It is the initial phase which is carried out to get everything ready before the job is done. It starts with plate making where the stamp making design is transferred which is known as plate. These plates are normally created to correspond with one design and one particular color. An overlay of a number of plates complete a single printing process. These plates are fitted to on printing cylinder which has a mounting tape covering it. The accuracy of the placed plate on the sleeve plays a major role in perfect output. There are both manual and automatic mounting machines available for this process. The ink is prepared by ink kitchen takes care of mixing colors to create spot colors. Spot colors are independent by-products of process colors CMYK to create a pantone shade. The sleeves, ink, doctor blades, anilox rolls are moved to the printing department.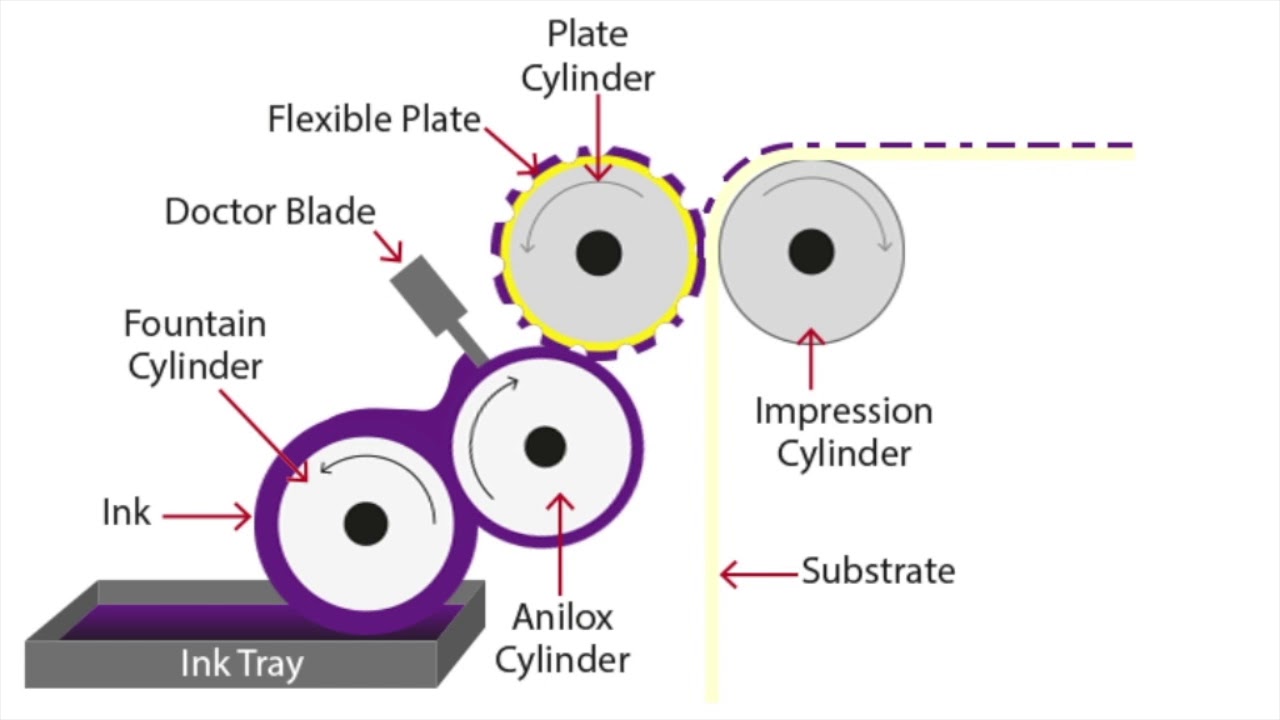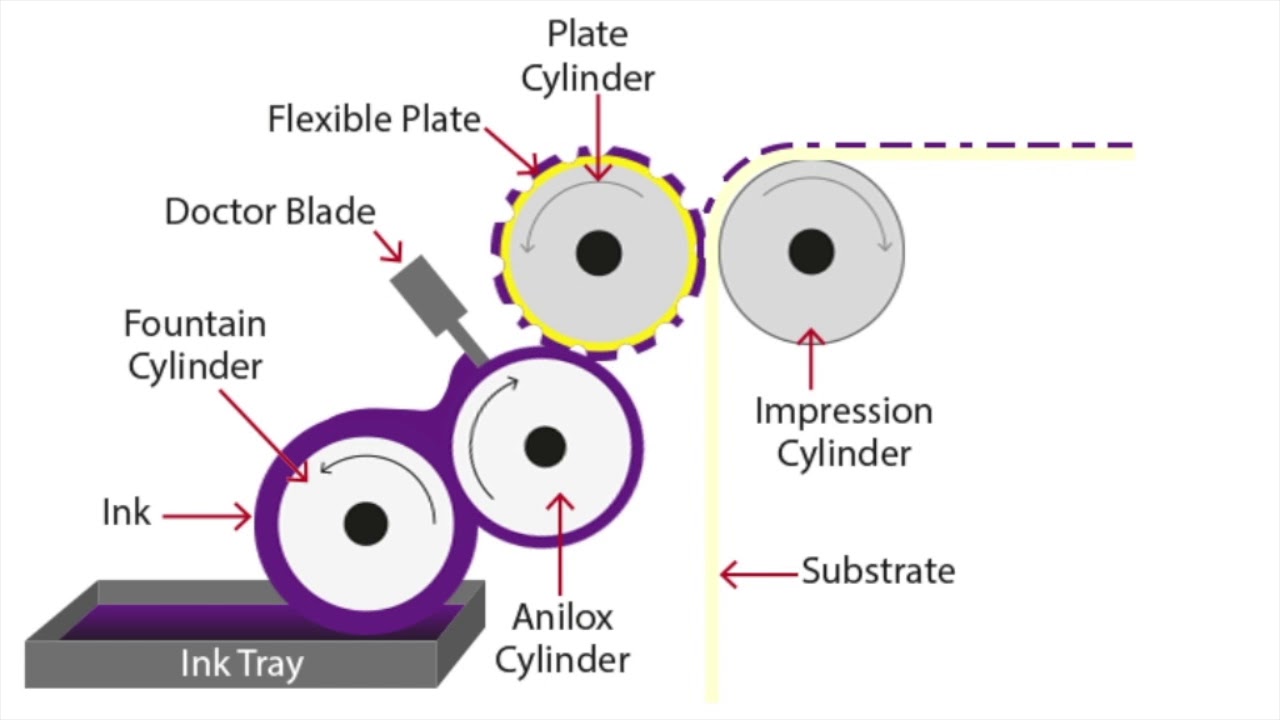 The above picture showing the Flexographic Printing Principle.
Printing: The printing stations needed are decided based on the colors used for printing. Each station is assigned a single color. The substrate passes multiple printing stations and the actual design is achieved as multiple colors overlay to get various shades.
The process begins with anilox roller transferring ink from ink pan to the plate which is followed by an even amount of ink transfer on the plate based on measurements made by the doctor blade. This ensures uniform ink distribution. Then the substrate is passed between the impression cylinder and the plate cylinder. The impression cylinder pushes the substrate towards the rotating cylinders which allows the rotating cylinder to kiss the surface of the substrate. Hence the design on the plate is transferred on to the substrate. The freshly printed substrate is then passed through a dryer for the ink to dry. The substrate moves on with subsequent printing stations. Finally, the printing is completed when all colors are printed and an additional round of drying is done.
Post-press processes like die-cutting, cold foil stamping, and varnishing can be integrated into in-line presses to improve the efficiency of producing ready-to-use rolls of labels. Large rolls of printed materials are converted to their specified width with the help of slitting machines.
There have been a lot of advancements in flexographic printing which form its advantages are reduced time, improved recycling capability, reduced wastage, high-quality printing, shorter turnaround time, extended color gamut, and hybrid flexographic printing system.
Low viscosity is one of their remarkable advantages which enables fast drying and faster production resulting in lower costs.