Wrinkling any material into ridges and folds in order to give a boost to it strength is called corrugation. This technology was formulated in the 18th century has been adopted and implemented in a lot of industries to produce superior quality goods. The main two industries that have implanted corrugation are metal and cardboard industry. Market insights suggest that corrugated packaging industry that manufactures corrugated boxes and corrugated boards is set to grow its business by 20% in the next five years. Similarly, corrugated steel industry that manufactures steel sheets, galvanized iron sheets, metal pipes and metal sheets is also projected for growth.
Corrugation can be defined as the process of making flute paper by compressing container board as ridges and using adhesive to place them between linear board. The boxes made out of the formed sheets are called as corrugated boxes.
We do not realize that corrugated boxes play a very important role in our daily life. According to the global trends packaging industry is filled with demand for corrugated boxes and so these sheets are manufactured to catch up with the supply chain demand.
Corrugated boxes are preferred over other products because of their special characteristics such as perfect moisture content that eliminates cracking and compression problems, burst strength, bending resistance, impact resistance, cushioning, shock absorbance and tear resistance.
There are a lot of advantages in using corrugated boxes such as,
They are lightweight and provide enough protection for packed foods.
Stronger than other boxes like cardboard boxes.
Made with biodegradable material so they can be recycled and reused.
Offer more customizable options and are flexible.
More cost effective and yet sustainable and light weight.
The different types of corrugated boxes in market perspective are,
Single-phase corrugated box: Consists of a single flute and one or two sheets of linear board. The flute is glued to the linear board.
Single wall corrugated box: Consists of one sheet of corrugated medium which is glued and placed between two sheets of liner board. They have multiple uses in retail industries and as shipping boxes.
Double wallboard: Consists of a two-layer corrugated medium glued between three layers of liner board, this makes the box more rigid and can be used for packaging of heavy products or products which are more delicate. They are widely used in shipping of electronic products.
Triple wallboard: Consists of three layers of corrugated medium and four-layers of liner board. They are mainly used in packaging of industrial parts due to their durability and higher burst strength.
The different types of corrugated boxes in technical perspective are,
Half Slotted and Slotted Boxes: Made with each piece of either stitched, glued or taped manufacturer's joint, top and bottom flaps.
Telescope Box: Made with a number of pieces and lid and bottom telescoping over the body of the box.
Folder Boxes and Trays: Made with single board piece. Side covers are formed with hinged bottom and locking handles and panels are used as features.
Slide Boxes: Made with a number of pieces of liners and sleeves moving into each other from multiple directions.
Rigid Boxes: Made with two individual end pieces and a body. Stitching or gluing of fibre board is done.
Partitions and Fold-Up pads: A number of panels are formed as needed by putting together liners, pads, separators and dividers.
The manufacture of corrugated packaging involves two processes: the container board combining process and the box manufacturing process.
Container board combining process: The process of gluing sheets of fluted corrugating medium to flat facings of liner board.
Box manufacturing process: The process of assembling corrugated sheets into boxes.


Primary Materials that are used in the manufacture of Corrugated boxes are,
Adhesives such as corn starch, caustic soda, borax or boric acid are used for binding corrugated medium and the linear sheets that is together called as container board. Printing inks such as flexographic and quick drying inks are used with OP varnish to sharpen and increase the endurance of the ink. Vinyl acetate emulsion is used as a joint adhesive with bundling materials like stretch film and baling twine. De-oxygenation of boiler and neutralizer is done using agents. Electricity, kerosene, heavy oil, lubricating oil and water treatment agents are other materials used in the corrugated packaging industry.
The output of any corrugated box is measured by the thickness of its wall surfaces known as flutes. Hence the corrugated boxes are marked by letters A, B, C, E, F which denotes the type of flute used.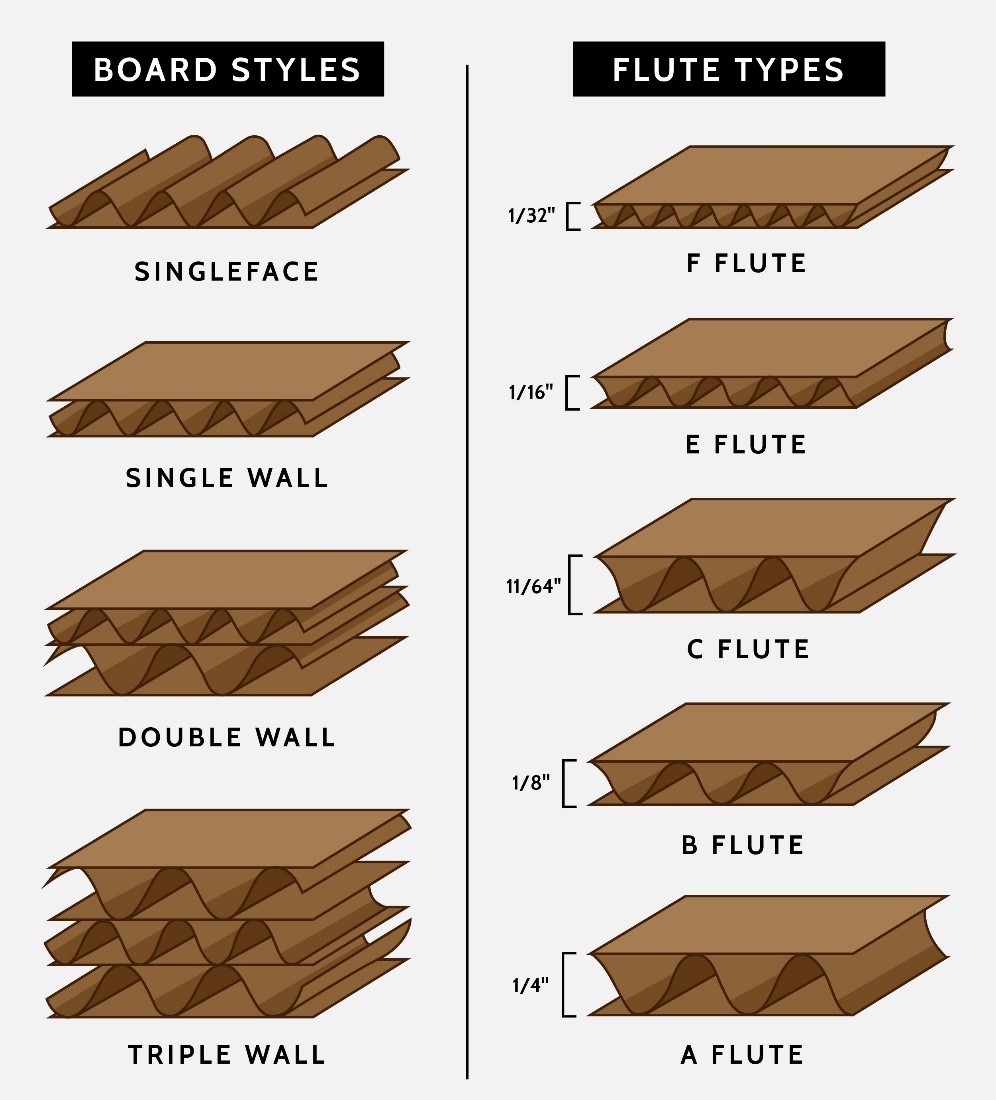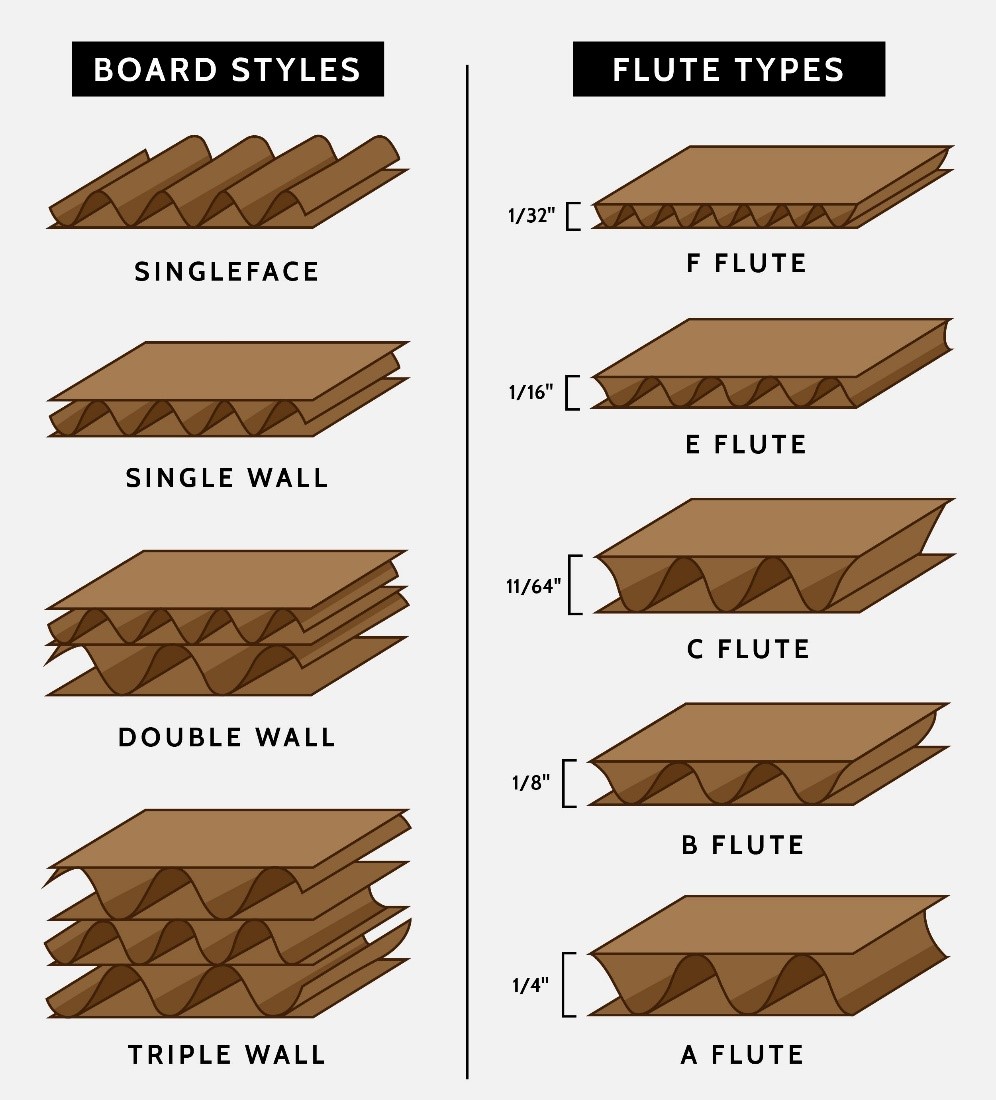 A-Flute Cardboard: Type A cardboard is the original corrugated flute design and is the thickest with excellent compression, cushioning and good stacking strength. It is used for packing fragile items because of its structural strength. It comes with 36 flutes per linear foot and the thickness of flute is 1/4" (approx.)
B-Flute Cardboard: It has a good surface for printing and has excellent crush resistance and puncture resistance. This cardboard is commonly used for inner packaging components such as pads, dividers, partitions and other forms of inner packing. It comes with 49 flutes per linear foot and the thickness of flute is 1/8" (approx.)
C-Flute Cardboard: It has excellent compression properties and offers good crush resistance, stacking strength. It is most commonly used for shipping boxes and to secure glass, furniture, food products. It comes with 41 flutes per linear foot and the thickness of flute is 3/16" (approx.)
E-Flute Cardboard: It is advantageous for its thin construction which helps in reducing storage space. It has excellent crush resistance and its flat surface makes it an exceptional printing surface. It is used for packaging of food products and consumer goods such as glass products and cosmetics. It comes with 90 flutes per linear foot and the thickness of flute is 1/16" (approx.)
F-Flute Cardboard: It has good crush resistance and a smooth printing surface. Its thin construction allows for stiffer boxes with less fibre. It is commonly used in fast food clamshell containers and small retail packaging as the rigid box creates less solid wastage. In Europe, F-flute is being used for specialty packaging, point-of-purchase displays, jewellery and cosmetic packages, and shoe boxes It comes with 128 flutes per linear foot and the thickness of flute is 1/32" (approx.)
Out of all, C Flute corrugated boxes occupy more than 80% of the MarketShare because of their more adaptable properties and requirements.
The nature friendly reason to opt for corrugated boxes are their recycling properties. They can be flattened and sent for recycling. This reduces a huge amount of solid waste in all small-scale retail business. South East Asia has become a major hub for corrugated packaging industries considering the supply chain demand. Though Europe has been the large consumer, market growth projection for next five years shows a geographical shift and a great business.